NEWS
Daniel Radcliffe Was Always "Excited to Go to Work" on 'Harry Potter' Set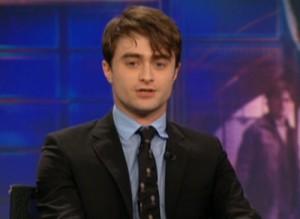 Dedicating over a decade of your life to filming a franchise like Harry Potter may be seem to be a difficult task, but Daniel Radcliffe was happy to be part of the process and his enthusiasm to go to work was shared by his co-stars.
Daniel chatted with Jon Stewart on set of The Daily Show last night and the host said he was impressed that the Potter crew never became jaded, explaining, "because as a 14-year old, being jaded is, in many ways, your job."
Article continues below advertisement
"We were still excited to go to work," Daniel shared. "That's down to a lot of things from the simple fact of all loving our jobs, having different directors come in over the years to keep things fresh and working with these amazing actors."
Who could get bored in the magical world created by mastermind J.K. Rowling?