NEWS
Danielle Staub: I Brought Attention to N.J.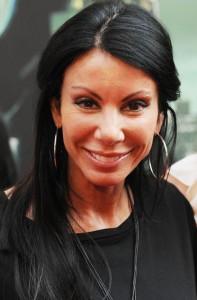 Although Real Housewives of New Jersey star Danielle Staub has been portrayed in an unflattering light, she doesn't let that get her down.   
"What I've learned about myself is to watch more carefully what I do say, and what I do," the divorced mom of two, 47, tells me. "I try to set a good example for my children through what they're learning when I'm living."
Now that shows like Jersey Shore and Jerseylicious are also bringing the spotlight to the Garden State, Danielle is ready to take credit.
Article continues below advertisement
"It's the Jersification of the world," she says. "I'd like to think it started with yours truly. I brought enough to bring a lot of attention to New Jersey, and I'm going to hold it and keep it."
What's the biggest misconception about the state?
"The biggest misconceptions about New Jersey would be that we are filled with gossip," she explains. "We do not mirror ourselves after the other four women on our show. It's about being real, being good to one another and family-oriented. I think people are missing it when they think we're all into shopping. I cook. I cook every day for my kids, and I think they're missing it. The biggest misconception is we do not spend family time together, but we're all about family."
Pick up the OK! on newsstands now for Danielle's What I Ate Today diet feature. The cover line is Jennifer Aniston: "Jen's A Mom!"