NEWS
Danielle Staub, Kelly Bensimon Advise 'D.C.' Housewives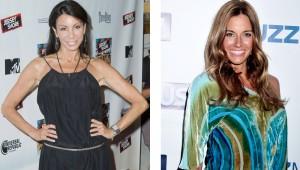 With Real Housewives of Washington, D.C. premiering tonight at 9 p.m. on Bravo, the most controversial New Jersey and NYC Housewives -- Danielle Staub and Kelly Bensimon -- offer their tips and takes on being part of the pop culture phenomenon.
What would Danielle tell Michaele Salahi (who is embroiled in a war with Whoopi Goldberg after yesterday's appearance on The View) and the other soon-to-be household names – Catherine Ommanney, Stacie Scott Turner, Linda Erkiletian and Mary Schmidt Amons?
Article continues below advertisement
"Don't hate on each other so much," Danielle tells me. "It gets ugly, and it doesn't make anybody look bad but yourself. And if you're going to attack one person, believe me, you're going to make them rise to the top. points to herself Hello."
With co-star Teresa Giudice facing bankruptcy, Danielle urges the D.C. wives not to overspend.
"If you have it, don't flaunt it, because it will come back to bite you," she says. "Be humble. Be grateful for the opportunities you have. Try to teach your children that hard work is definitely something that will become lucrative to you in the end, and you do have to always remember where you came from. Even if you didn't come from there, all of us did, and there's people who are trying to fight their way to the top. You need to understand, reach out your hand and help them out a little bit and never feel like you're self-indulgent or self-deserving of anything in life. If you've been given an opportunity, give back."
MORE ON:
Red Carpet Confidential
Also: Danielle urges the wives to have an ally within the franchise.
"Jill Zarin reached out to me quite a few times, and every time I've seen her she's a very gracious – a lady to her core," Danielle shares. "I like a person who's real. I like a person who tells me how they feel rather than letting me find out from somebody else. She's a good woman."
Although Kelly won't tune into the D.C. show, saying it's "not my game," she is grateful for the opportunity to be part of the broadcasting brand.
Article continues below advertisement
"So what if someone calls you a name?" Kelly says. "Haters are part of the ecosystem. Have fun with it. I'm having so much fun with it, and I'm able to be charitable on top of it. And my kids love it. It's a win-win. I don't see anything wrong with it."
She continues, "Now I get to put my money where my mouth is, and actually go out there and be in the trenches and be part of what's going on and be charitable, which is important. A lot of people are skinny cats and they're like 'yah, I'm so cool for school, I can't go to a party because somebody's going to recognize me.' I'm like 'how about taking the hat off, smiling, putting your name out there, giving the stamp of approval on whatever charity it is, and helping them so we can make people better."
Pick up the OK! on newsstands this week for a fashion shoot with the Real Housewives of D.C. "Jen's Stealing Brad Back!" is the cover line. And, don't miss the series premiere of the Real Housewives of D.C., airing tonight at 9 p.m. on Bravo. This show will be *huge.*