NEWS
Danity Kane Singer Dating Quddus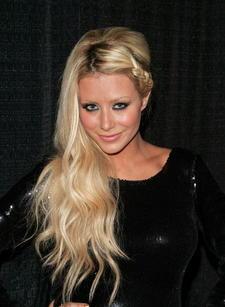 After a series of failed relationships left her reeling, Danity Kane's Aubrey O'Day wasn't about to give her heart away that fast to former TRL host Quddus.
The singer tells OK! they're dating, but he's in a "trial period."
"I've been heartbroken too many times to fall into it anymore," Aubrey tells OK! at the Izod Fragrance Artist Gift Lounge backstage at Z100's Zootopia on May 17. "Everybody gets a trial period until I know it's a good thing. I'm seeing if he'll work out."
Article continues below advertisement
The two met at the Danity Kane album release party in March and have since been spotted out and about on the town, most recently at Kanye West's concert afterparty on May 13. And so far it seems like Quddus will pass into boyfriend territory with flying colors.
"He's incredibly witty, intelligent and very patient," the 24-year-old says. "I need a man who is patient because Lord knows I am one big drama after another."