NEWS
Daphne Zuniga Saddles Up for Hallmark TV Movie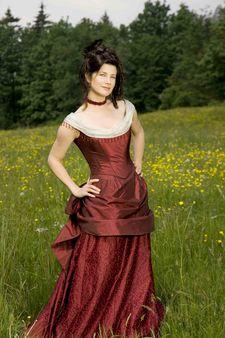 Daphne Zuniga has gone retro, about 200 years worth, for her new movie Mail Order Bride, airing tomorrow night!
She plays Diana McQueen, a con artist from Boston who pretends to be the bride of an unsuspecting ranch hand in Wyoming to escape her violent tempered boss.
I caught up with the Melrose Place alum and she filled me in on the hardest part about playing a con woman in a western romance flick: the dreaded corset.
Article continues below advertisement
"It literally rearranges stuff in there, so after the second week of wearing it, my waist was literally smaller," she exclaimed. "I would take it off, I would go home and be like, 'This is weird. It's supposed to go back to its normal shape.' But it didn't for a while."
And that's a bad thing?
There has to be a perk for roughing it in the film, and what more could you ask for than a handsome co-star in the form of Beautiful People's Cameron Bancroft?
"I was joking with the crew about," said Daphne. "I said, 'Well, I'm out here in the wilderness with Cameron, and if some girl's gotta do it, it might as well be me!'"
We can't fault you, girl!
Catch Daphne in Mail Order Bride Saturday, Nov. 8 at 9 p.m. on Hallmark. And read Daphne's thoughts on returning to the new Melrose Place in the current issue of OK!