NEWS
A Dapper Zac Efron Hits the Big Apple to Film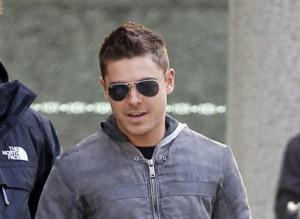 Newly single Zac Efron was bopping around on the set of his newest flick New Year's Eve' yesterday in NYC. Zac is starring alongside — oh everybody. The star studded cast is huge. The Gary Marshall film will include tons of A-listers such as Ashton Kutcher, Robert DeNiro, Jessica Biel, Katherine Heigl, Hilary Swank, Michele Pfeiffer, Sarah Jessica Parker, and more!
Article continues below advertisement
Zac's longtime girlfriend Vanessa Hudgens and him split just a few months ago but it hasn't seemed to be slowing either of them down. Vanessa was just in town for NYC Fashion Week and has a new flick coming out this month Beastly.
Most recently Zac has been linked to I Am Number 4 star Teresa Palmer. The two were spotted cozying up at a L.A.'s Pink Taco.
MORE ON:
OK Galleries & Photos
We kind of miss Zac and Vanessa, or should we say, Troy and Gabriella. How do you feel about their breakup?