NEWS
Darius Rucker: Some 'Idol' Hopefuls Can't Sing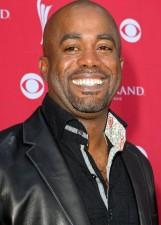 As a successful country singer and Hootie and the Blowfish frontman, Darius Rucker certainly knows what it takes to make a hit record.
But the CMA Award winner, 40, who is a married father of three, thinks some early American Idol contestants are fooling themselves when they think they can actually sing.
"We watch American Idol religiously," he tells me during a March on Stage event benefiting Musicians On Call held at Hard Rock Café Nashville. "I love the people who are good, and I love the people who aren't good. We'll sit there with the family and we'll watch it."
Article continues below advertisement
He continues, "My wife says it every year – 'that person can't really think they sing great.' I go 'yes, they do.' That's a common debate in our house. I always say to her 'I'm not mad at them. I'm mad at their parents and their friends and their brother and sister who say 'hey, you can sing.' Those are the people you should be mad at."
Sadly, his pick, Haeley Vaughn, was voted off the show, but he holds out hope for Andrew Garcia.
"I think he's got a really smooth voice," he says.
Would Darius like to fill Simon's seat when he vacates his judging post in May?
"I think I'd be great as a judge," he tells me. "I don't think my friends think I'd be great because I've been told I'd be too nice. But I think I'd be great because I like a lot of different things. You can play a Sinatra tune and I'll sing it. You can play a Hank Williams tune, and I'll sing it. Play an R.E.M. tune, and I'll sing it. I've had a little bit of success in this business. laughs I think I'd be an all right judge."
Here's my pic with Darius: