NEWS
Darren Criss Celebrates His Signed 'Glee' Deal With 'Harry Potter' Premiere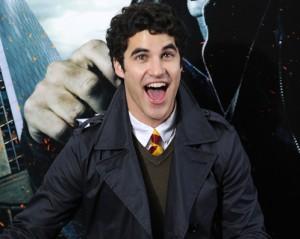 Darren Criss has now been confirmed a regular on Glee after his appearance last week became a big hit. So how did he celebrate the news? By attending the NYC premiere of Harry Potter and the Deathly Hallows: Part 1 on Monday and freaking out when his "teenage dream" came true and he met his favorite Potter stars!
OK! NEWS: DARREN CRISS' "TEENAGE DREAM" GLEE COVER NO. 1 ON ITUNES
Executive Producer Ryan Murphy has confirmed, according to Digital Spy, that Darren will be continuing to appear on Glee as a regular.
Article continues below advertisement
"Darren has become such a sensation in one week, which I love," he said. "I think there's a hunger for him and a positive relationship role model. He'll definitely continue through the year and longer. We just signed a deal with him."
But before his appearance on Glee, Darren was the star in a viral YouTube video posted in 2009 with his friends titled, "A Very Potter Musical" so Harry Potter holds a special place in his heart.
"A lot of people who know me as Harry, it's kind of weird, because I'm not Harry Potter," Darren told MTV News at the premiere of Harry Potter and the Deathly Hallows.
OK! NEWS: GLEE CAP — "NEVER BEEN KISSED": KURT INCHES CLOSER TO LOVE INTEREST
In his YouTube video, Darren played Harry Potter himself and has always wanted to meet Daniel Radcliffe.
"This is the closest I've ever been to anybody from the films and probably the closest I will ever get," he said and he also practiced what he'd say to them!
Watch the interview below!
And for those who haven't seen Darren's Potter musical, check it out below!