NEWS
Darren Criss Covers "Part of Your World" From Little Mermaid!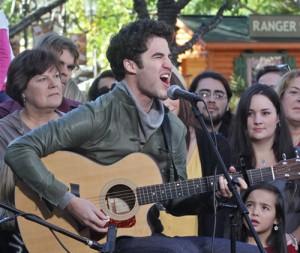 Darren Criss has become an overnight sensation since he nailed a cover of Katy Perry's "Teenage Dream" on Glee. The 23-year-old star treated the lucky crowd at The Grove yesterday in L.A. with a performance of the Disney classic "Part of Your World" from The Little Mermaid.The newest member of the Glee cast also taped an interview for Extra and performed an acoustic set including a cover of Journey's "Don't Stop Believing."
Article continues below advertisement
On Sunday night, Darren was lucky enough to meet up with Katy on the red carpet at the American Music Awards.
"He's amazing!" Katy told Access Hollywood of Darren recently while she was in NYC. "I love when any of my songs are remixed or interpreted differently. I just I love that, I really welcome a creative mind to anything."
OK! NEWS: DARREN CRISS ON GLEE GUY ROMANCE —"I TRUST THE WRITERS"
Darren plays Kurt's (Chris Colfer) love interest on the show and while nothing romantic has happened between the friends just yet, their budding relationship suggests the two may become more very soon.
"I don't know. Chris and I are just as curious as everybody else," Darren admitted about a romance between the two characters. "I think the most important thing right now is that Kurt has a support system, and it's important for gay teens watching to recognize that. I think if it does evolve to a romantic relationship… at this point, it's neither here nor there. We're just showing this notion of camaraderie and that there is a place to confide in.
Article continues below advertisement
"And if it does evolve in that way, let's hope that it's organic and right for the story," he added. "And I'm all about it, but I trust the writers. They know what to do."
Before Glee, Darren was a viral video star on YouTube for "A Very Potter Musical" where he played Harry Potter.
He also became a YouTube sensation for his various covers, including "Part of Your World." Catch both versions of the Disney classic below!
Part of Your World Cover — over 300,000 views!