NEWS
Daryl Hannah's First Post-Arrest Interview: "I'm Willing to Risk My Own Freedom"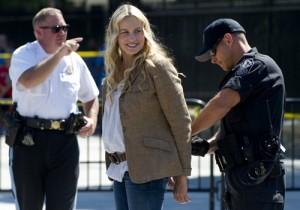 Daryl Hannah made headlines just over a week ago when she was arrested at a sit-in in front of the White House to protest a proposed oil pipeline from Canada to the Gulf Coast. She talked for the first time since her arrest to OK! this past weekend at the Montblanc Princess Grace Collection launch, trading in her handcuffs for a gorgeous gown at the black-tie affair where Montblanc donated a million dollars to the Princess Grace Foundation.
Article continues below advertisement
OK! NEWS: DARYL HANNAH ARRESTED AT WHITE HOUSE FOR PROTESTING KEYSTONE OIL PIPELINE
"We knew there was a strong likelihood of it," Daryl tells OK! of her arrest on Aug. 30 along with other protesters. "That was sort of in a way the point because social movements have always taken some measure of civil resistance. You look at the Civil Rights Movement, or the Antislavery Movement, civil disobedience has played a large point in initiating those changes and getting people to actually say, you know what, I'm willing to risk my own freedom for greater freedom and in this case it was the freedom from fossil fuels."
If Daryl doesn't sound worried about the arrest, that's because she's been there twice before – once in 2006 when she chained herself to a walnut tree to protest farmer's getting evicted and in 2009 when she protested a mountain removal in West Virginia. But not everyone was as calm as she was.
"Some of them were frightened and understandably so — I mean, there were nurses, teachers and people from all walks of life and none of them had every done anything like that," she tells OK!. "If you see pictures of me from the arrest you will see I was smiling and I think that was part of me just trying to let them know it was okay."
Article continues below advertisement
OK! NEWS: DAVID DAYAN FISHER, NCIS ACTOR, ARRESTED FOR BATTERY
When people began getting arrested by the dozens, Daryl did what she could to keep protesters calm.
"In the paddy wagon one of the ladies was really nervous and her glasses fell off and I was able to sort of wrangle my hands somewhat free and get her glasses back for her," she says. "They just saw that I was relatively calm going through the process and so it kept them calm I think."
Although it was her third arrest, she said there wouldn't be much aftermath because the arrests were in different states and because of the volume of people arrested.
"This time, because there was so many people, they actually processed people relatively quickly because the next day they had another couple hundred people and the next day another couple hundred people," Daryl says. "By the time I was taken, they had already gotten it done to a pretty fast system."
Great to see a celebrity standing up for what they believe in!