NEWS
A Date with the Cougar: A Real-Life tale!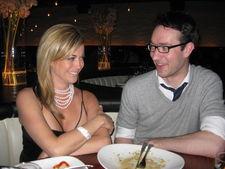 Gee, if only the boys back home could see me now: TV Fanatic's Oliver Coleman, on my way to a date with a cougar.
That's right. A real live cougar – a 40-year-old woman, mother of four, all long nails, long hair and out for one thing and one thing only.
And, okay, she may have just finished shooting The Cougar, a reality show in which 20 20-something men battle to win her heart.
But she hasn't met this 20-something man yet. And tonight it's my turn to take my chances with The Cougar.
Article continues below advertisement
But when I arrive at restaurant STK, damp from the lousy New York weather, and see Stacey Anderson sitting at the bar, my bravado goes down the drain with the rain. I'm sure I just felt the flowers I bought for her droop.
She's wearing a black cocktail dress, expensive pearls, just a little makeup, and her blonde hair sweeping down over her eye.
She looks… great. A woman like her would have looked great in that outfit in the 1940s, when her father, Giovanni, became a multi-millionaire selling life insurance; a woman like that would have looked great in that outfit in 1969, when Stacey was born in Long Island, New York; in 1974, when her family moved to Scottsdale, Arizona; in 1981, when her mother, Barbara Ann died; in 1985, when she married and had her first baby at 16 (and when I turned 3).
A woman like her would have looked great in that outfit in 1993, on the day she was married for the second time -- the same day that Giovanni died; and a woman like her would have looked great in that outfit in 1994, when her oldest daughter had a liver transplant and she began a campaign that would eventually change legislation on organ donation.
There's a word for an outfit like that. But I can't remember it right at that moment. It's one of many words I can't remember right at that moment: it's that kind of dress.
Article continues below advertisement
We make our way to our table and I stutter my way through my order (thank God the boys back home can't see me now).
"I really think that society has stereotyped cougars," says Stacey as she orders her steak, "as all long fingernails, long hair, and out for one thing and one thing only."
What? Pffft… No way…
"I want to redefine what a cougar is," she says. "We're much more than that: we're single moms, we've gone through adversities, we've had challenges, we're career oriented. There's so much more to me, in dating a younger man, than the physical pull."
It's true. Stacey has been through adversity. She had married twice before most people have married once nowadays. Her parents both died young.
But she's not looking for man to give her back her youth. She likes nightclubs, but not every night, she doesn't use Facebook, her favorite band is U2, she's not looking for an invitation to Spring Break, she doesn't wear Victoria's Secret's Pink Line (but yes, her favorite movie is Dumb and Dumber, and no, she doesn't care if that makes her a little immature for a 40-year-old).
Article continues below advertisement
So why is she looking for a younger man?
"A lot of it is economical," explains The Cougar, who, since getting her license four years ago, is now in the top one percent of realtors in the country when it comes to doing deals over $50 million.
"Younger guys are in the start of their careers; they're focused, they're driven. And if they meet somebody their same age, that person might be more family oriented -- want to start a family, get married, settle down.
"So there's conflict. So when younger guys meet an older woman who's financially independent and secure in her career—while he's just launching his—to me that's a great foundation for a relationship. She understands. She's been there, she can maybe mentor him with some of the things he's going through in his career. She's not putting pressure on him to start a family. She's probably already done that."
Article continues below advertisement
But it's not all so darn sensible.
"I think that older men are a little bit more complacent and conservative for my type. But if I met somebody who was 44 who was adventurous, who I connect with, would I date him? Yeah. I would," she says.
"But every time I go out, I'm drawn to a younger man or a younger man is drawn to me. I'm outgoing, free spirited, I'm adventurous, so there's that immediate connection."
Oh, and since you're wondering, she does have limits. Sometimes a guy seems just too young and it just "doesn't feel right."
And she would never date one of her children's friends. Although she does admit that she dated a guy who her eldest daughter, Leah, 23, had gone to high school with. "That was shocking to her, but there wasn't a problem there.
"My kids are like hey, 'You're happy and that person makes you happy and he works for our family, right on.'"
Article continues below advertisement
I catch a glimpse of that dress again and the elegant gold bracelet on her wrist.
And for a moment think, what is that damn word?
Okay. Back to the job in hand – this is my shot at the cougar. Regroup; get this thing done. "So," I say, drumming my fingers on the table as casually as possible, "did you find someone special on the show?"
"I did."
Damn.
"We talk 10, 15 times a day," she beams.
"There's that connection there: mentally, physically, emotionally, spiritually, sexually. Every facet is there to make a great relationship."
A cynic like me is surprised that you can find a match so special in such a short space of time, and out of just 20 guys.
But then, says Stacey: "I guess you are a little conservative. You're wearing your black-rimmed glasses and your V-necked grey sweater.
"You look a little Harry Potter-ish," she teases.
"Harry Potter?," I say, and getting up all my courage: "Well I suppose he's about the right age for you."
Article continues below advertisement
"Ouch," purrs The Cougar.
Hang on. Are we flirting? Me and the cougar? Well coo coo ca choo, Mrs Robinson! Wait 'til the boys back home hear about this!
But Stacey is not what they'll be picturing. No claws, no "out for one thing and one thing only," no Botox, no facelifts.
"I think that true beauty is classic, timeless and shows from the inside and the out," says Stacey as she sends me on my way. "And I would like to think of myself as that: timeless."
Ah, that's the word.
The Cougar premieres tonight, Wednesday April 15, at 10 p.m. on TVLand.