NEWS
Dave Grohl Continues to Rant About 'Glee' (With a Few F-Bombs) on 'Chelsea Lately'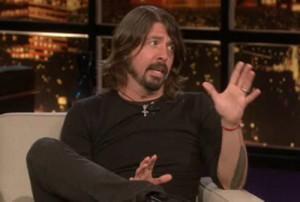 Dave Grohl is still on the anti-Glee soap box. The Foo Fighters frontman discussed his stance against Glee again last night with Chelsea Handler.
After being prompted by Chelsea, Dave went into a long (more PG) explanation about how the whole altercation started with Glee creator Ryan Murphy.
"The creator of Glee, who I've never met — and I've really only watched about three minutes of Glee…I don't watch a lot of TV — I read something where he was kind of mouthing off about some friends of mine n rock bands," Dave explained, adding, "And I just felt like, as a musician, you should be able to say no. You should be able to say, no, I don't want to do your show or I don't have to do anything that anybody tells me to do."
Article continues below advertisement
And he then came the F-bomb.
"Why should you have to do it? Why is that necessary for you to do as a rock musician in your career, why should you have to say, 'Okay, Glee, take my song and turn it into a f***ing musical.' That being said, I don't know the guy and I've never really watched the show — I don't know if it's a good or a bad show — I just know that I like rock music."
And then Dave went on to share a lesson with all the kids out there.
"Most musicians… You know, I'm a high school dropout," he said, as Chelsea high-fived him with a heavy dose of sarcasm. "Stay in school, don't do drugs...'cause look what happens!"
Catch the clip HERE.