NEWS
Dave Letterman's Pick for Best Actress: Natalie Portman!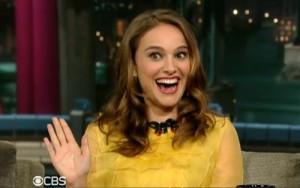 David Letterman is a big fan of Natalie Portman's work. The host showered the young, accomplished actress with praise last night during her appearance on the Late Show, proclaiming that Natalie should win an Oscar for her performance in Black Swan.
"I looked at this thing, and anyone else who thinks they got a shot at being nominated or winning an award, they should just go see this movie," Dave told Natalie, "because they're not even gonna be close to this."
Article continues below advertisement
Dave has campaigned for Oscar buzz on behalf of Natalie in the past — hoping Brothers would be her ticket last year.
"This is a real movie. It couldn't be more timely. There's just not a false note in the entire thing. You must be thrilled to be a part of it. I don't remember when I saw a movie that I was this impressed with ... It's the finest movie made in the last twelve, twenty years," Dave told Natalie about a year ago when she was on his show promoting Brothers.