NEWS
David Archuleta: I Look Up to Jordin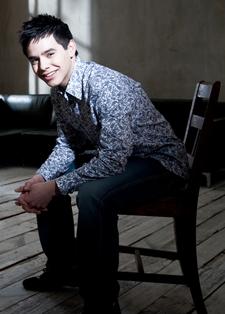 When David Archuleta finished second in the seventh season of American Idol, he not only gained a huge fanbase, he also garnered a spot among other Idol stars destined to break into the music scene.
Among them, the 17-year-old singer says he most aspires to season six winner Jordin Sparks' career.
"I really look up to her," he says in an interview with PopEater.com. "I think her journey's been the most similar to mine. She's an amazing singer, and her style ... she understood that she was young and didn't have to run with a certain type of music so quickly. She allowed herself to have some space, some growing. That's really cool of her."
Article continues below advertisement
As for another famous Idol star David says he didn't really think about Clay Aiken's recent revelation that he's gay.
"Entertainment stuff bugs me so much – they're just so interested in other people's lives," he says. "Whatever, it's his life. You have to respect ... how he lives."
David also has a friend in fellow AI alum and similarly named singer, David Cook, who beat him in the finale to take the Idol crown. The younger David doesn't seem to harbor any hard feelings towards his former competitor, however, even sending his new single "Crush" to Cook.
"He liked it. He was like, 'Your single sounds awesome,' " he says. "He sent me a text when he first heard it. On tour, everyone would be singing it, joking around. I was just like, laughs 'Stop!' "
David's is currently putting the final touches on the rest of his debut album, and in record time.
"I knew had a few months, and those months were taken up doing a tour, so it was interesting trying to juggle both of those things at once," he reveals. "When I'd have a day off, I'd go record. But I don't want to keep myself limited with this album."