NEWS
David Arquette Admits to Jasmine Waltz Hook-Up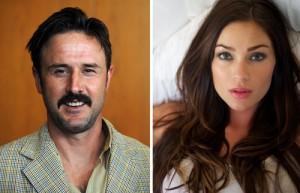 In the wake of the shocking split between David Arquette and Courteney Cox, David turned to Howard Stern and his Sirius talk radio show this morning to address the separation with his wife of 11 years. Along with the split talks, David confessed to having "sexual encounters" with 29-year-old bartender Jasmine Waltz.
David told Howard he wasn't living with Jasmine, "But I did have sex with her one time, maybe twice... my sexual encounter made me pretty feel manly."
Article continues below advertisement
Jasmine has been the woman pinned as David's paramour, and the beauty has a definite Hollywood dating roster: She's been romantically linked to Ryan Seacrest, Jesse McCartney and Doug Reinhardt.
OK! EXCLUSIVE: COURTENEY & DAVID — BABY TROUBLES CONTRIBUTED TO SPLIT
David made note that noted Jasmine texted him in confusion as word spread of their romantic involvement.
The actor also explained how the couple broke the news to their 6-year-old daughter Coco on the beach.
OK! NEWS: CONFIRMED — COURTENEY COX & DAVID ARQUETTE SPLIT
As per Howard style, he asked subtly about the the couple's sex life and David admitted he and Courteney hadn't slept together in four months, adding, "sex with Courtney is scheduled to a certain degree, it's methodical to a certain degree, and so full of love ... it's so beautifully passionate."
Listen to the entire interview HERE.
Do you think it was too soon for David to speak out?