NEWS
David Beckham Tackles Latest Affair Rumors; Focuses on Fatherhood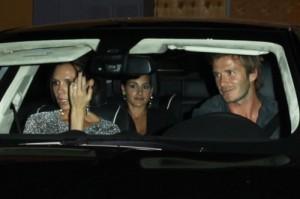 David Beckham already shot down rumors (and filed a lawsuit) proclaiming he would never cheat on his wife with a high-priced hooker, so why would he be unfaithful with one of wife Victoria Beckham's friends. The pro soccer player's camp shot down the most recent allegations claiming all the reports are made up.
"As with another recent story, this is another tale full of fantasy," David's rep told E! News. "On a serious note, David is naturally focused on the important game against Chivas this Sunday."
Article continues below advertisement
The rumor mill began buzzing when allegations surfaced that David had an affair with jewelry designer Shery Shabani.
In the divorce case between Shery and her husband, L.A. lawyer Kambiz Joseph Shabani, Shery claimed her husband had "threatened to kill" her and falsely told police officers that she 'f--ked' David Beckham,' " according to E!.
"There is absolutely no truth to the rumors regarding my relationship with David Beckham," she told E! News, in the midst of all the infidelity reports surrounding David. "I consider both David and Victoria friends and wish them all the best."
David is in the process of suing a magazine for libel and slander, after a story was published that he had an affair with a hooker.
Article continues below advertisement
In other Becks news, the doting dad is trying to focus on what really matters — raising his three boys! Yesterday, David tossed balls to the sons Romeo and Cruz as they practiced using their heads and a few kicks.
And last night, Posh and Becks put on a united front amid reports of infidelity as they took friends out for dinner in Mozza in Hollywood.