NEWS
David Beckham tells OK!: "I'm loving L.A.!"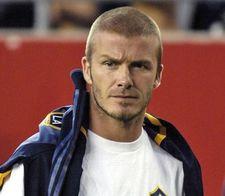 When OK! chatted with international soccer star this morning after his radio interview with , he seemed to have fully integrated himself into the L.A. lifestyle after only a few months of living in California.
Speaking from behind his designer mirrored shades, and massaging the designer stubble on his jutting jaw, Beckham told OK! he was "still loving his L.A. experience" despite his that have him sitting on the sideline. And what of wife, herself, ? "She's doing great," David tells OK!.As for his injury, a strained ligament suffered earlier this week during a game, David explained to Seacrest that it's "not so great," and that he'll be out at least eight to ten weeks. "Hopefully, I'll be able to play before the end of the season," he said.For some steamy photos of Becks, check out our gallery!
Article continues below advertisement