NEWS
David Beckham on Victoria: "She Is an Amazing Mother"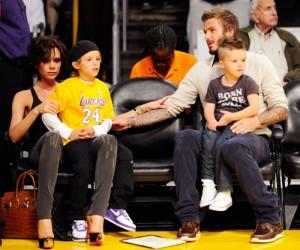 David Beckham may have taken sons Romeo and Cruz as his dates to the Teen Choice Awards last night, but the pro soccer hunk had one thing on his mind — beautiful wife and doting mother Victoria Beckham! David took the time to open up to reporters about his partner, who he has been married to for 11 years — not a common feat in Hollywood!
"We make it work. We make time for each other," David told reporters in the press room at Teen Choice 2010. "We work hard as individuals, but our main job is being parents to our boys. Our boys are our lives. Our number one priority is our boys, but we make time for ourselves and go to dinners and romantic weekends. You know, you make it work."
Article continues below advertisement
While David and Victoria work together as a team when it comes to raising their three sons, the couple doesn't collaborate in business endeavors.
When asked if he helps Victoria with her fashion line, David responded, "No, she doesn't need me."
Victoria is a style icon to many, but David said he really enjoys here casual side as well.
"She looks amazing dressed up, but dressed down with flip flops and jeans, I love her. She looks great both ways."
Article continues below advertisement
Victoria and her fabulous attire were part of American Idol last season, when the former Spice Girl served as a guest celebrity judge.
Her presence on the panel was enjoyed by all, and with the current pandemonium surrounding the judge's table for season 10, would Victoria consider going back?
"I don't know," David said. "She had a great time doing that but she is busy doing her own fashion line. I don't think she would go back, but I don't know."
Besides American Idol, the Beckhams do really love another FOX singing show — they are Gleeks!
"We watch it sometimes with the boys, but me and Victoria put the boys to bed at nine and watch it," David said. "Victoria loves the show."
As far as David's own business ventures and his rumored restaurant deal with celebrity chef Gordon Ramsay, he said,"I know I just heard that with Gordon Ramsay, but no, we are just good friends."
"He is more like a friend to me than anything else. So no pub."
Reporting By Gena Oppenheim