NEWS
David Cook Wins American Idol!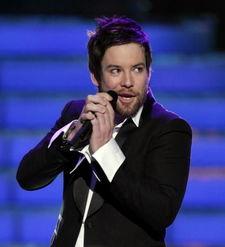 After months of tryouts, eliminations, semifinals, celebrity mentors, more eliminations, Ford commercials and awkward elimination-night medleys, David Cook was named the champ of the seventh season of American Idol.
The stunned AI victor wept openly on stage after hearing the decision live on Wednesday night's star-studded finale broadcast. "I am at a loss for words right now," he said before being joined onstage by his mother and brother, to whom he pointed and said, "this is all your fault."
Article continues below advertisement
As Idol host Ryan Seacrest announced, Cook had earned 54% of the 97.5 million votes cast after Tuesday night's final performance show, which saw the ultimate champ receive mostly negative comments from judge Simon Cowell.
However, in a rare show of humanity before the results were announced, Simon admitted that he had watched the show at home last night and, "it wasn't quite so clear-cut as we called it." The ornery Brit then apologized to Cook, saying, "I think I was verging on disrespectful."
The finale itself was an odd, and occasionally hilarious, mix of the old and the new as veteran performers like Graham Nash, Donna Summer, ZZ Top and Bryan Adams and newcomers One Republic and The Jonas Brothers took the stage to perform with the two Davids and the other 10 finalists.
In one of the evening's highlights, pop star George Michael made a surprise appearance, bringing judge Paula Abdul to tears during his performance.
Vying for the night's most hilarious moments was a pre-taped segment featuring Ben Stiller, Jack Black and Robert Downey, Jr., as auditioning Pips for music legend Gladys Knight. But probably the happiest moment of the finale was when 44-year-old eliminated auditioner, Renaldo Lapuz gave an encore performance of his original tune — accompanied by the University of Southern California marching band!