NEWS
David Cross Stereotypes 'Jewish' 'Alvin and the Chipmunks' Producer on 'Conan'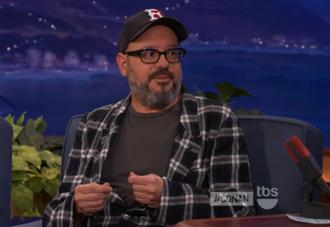 He's said it before and he'll say it again: David Cross really hated working on the Chipmunks movies. But in a new interview with Conan O'Brien, the actor/comedian went a little too far in saying just how much he hated his experience with the franchise.
OK! GALLERY: THE KARDASHIANS HEAD TO THE MOVIES TO SEE THE CHIPMUNKS
You might think the set of the Alvin and the Chipmunks: Chipwrecked would be a fun set to work on, but David hated it. "In all honesty, it was the most miserable experience I've ever had in my professional life," David explained on Conan.
Article continues below advertisement
The actor said he was forced to film on a cruise ship, even though he was completely covered in a pelican costume and didn't have dialogue.
So, why couldn't he get a stand-in to do the cruise ship shots?
"Everyone else had my back," David said of asking the director if he could get a stand-in.
OK! NEWS: AMBER TAYMBLYN, 28, GETS ENGAGED TO DAVID CROSS, 47!
But, "There was one producer, I won't say (who), but she is the personification of what people think about when they think negatively about Jews," David said, "You know what people conjure up..."
Conan said (looking clearly uncomfortable), "No. No, I don't."
And then he quickly changed the subject!