NEWS
David Hasselhoff Under Psych Ward Lockdown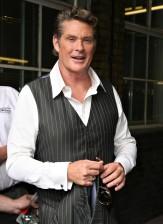 After an intense 911 call from his daughter Hayley on Friday, David Hasselhoff has been residing at The Cedars- Sinai Medical Center in LA for a seizure, but Radar Online reports that his stay is not voluntary.
According to Radar Online, Hasselhoff is being held in the hospital's psychiatric ward for further treatment under the California Welfare and Institutions Code 5150 justifying supervision of anyone who may harm themselves and can be admitted for up to 72 hours for psychiatric assessment under code 5151.
Article continues below advertisement
Radar Online also exclusively obtained confirmation that David was indeed consuming large amounts of liquor prior to his seizure, although he has denied any links to alcoholism in the past.
After many bouts with binge drinking, family and friends finally request that he should be placed in a rehabilitation center to deal with his problem once and for all reports Radar Online.