NEWS
David Hernandez Is Unbowed By Strip Scandal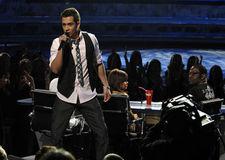 David Hernandez has dodged questions about his career as a stripper in a gay bar since the scandal broke three long weeks ago. But when he faced reporters for the first time today, the American Idol finalist was defiant, telling OK!: "I am not ashamed of anything in my past."
Although he admitted he had lost some sleep over the affair, the singer, from Glendale, AZ., told how he has got through weeks of scrutiny of his three-year stint at Dick's Cabaret in Phoenix, with the support of his fellow contestants, his family -- and a celebrity fan.
Article continues below advertisement
Refusing to blame his downfall on bad press, the 24-year-old said he thinks it was his choice of song for this week's Beatles themed show, not his racy past that let him down. Of all the Final 12, David took the worst of the judges' criticism this week with Simon Cowell saying he looked like a rabbit in the headlights on stage and that his act was "corny verging on desperate".
But David said he was proud of all his performances over the last month and that he was "genuinely shocked" when host Ryan Seacrest told him that he received the lowest share of the viewers' votes.
"I really didn't think I would be going home," he said. "Honestly, based on all the things the judges have said about my vocals, I thought I would definitely be in the bottom three, but I didn't think I deserved to go home."
"It was just unfortunately not the best song selection in the judges eyes and America voted," he added.
David says that when press reports first appeared about his dancing work in the months before Idol, his on-screen rivals rallied around. "When I was in the media for a while, I remember one instance, we were upstairs in the Red Room and they all huddled around me and gave me a big hug and they were like, 'Don't you go on the Internet and we're going to keep the TV off and we're not going to worry about all that," he said. "So it's really like a family."
Article continues below advertisement
But he revealed that his most memorable messages of support came from movie star Jim Carrey. David said: "I met him at the Horton Hears A Who premiere, and he's just really funny. He offered words of advice to me. He said, 'stay off the TV, don't go on the Internet'. He's awesome."
Although the former broadcast-journalism major (he says he will be dropping out of college to pursue his music career) says he did a pretty good job of blocking out the media storm, he did lose some sleep over it and felt the added pressure.
But he added: "Adversity is my best friend. It inspires me it makes me work harder. I don't have anything to say to the people who try to bring me down or count me out. I just tell them to count me back in."
"I've learned that all is fair in love, war and entertainment."
David said that the show's producers had known about his past from the very beginning, adding, "If they weren't comfortable with it I wouldn't have been on the air."
Article continues below advertisement
OK! asked him if he had been worried that his past as a stripper would come to light when he made it into the Top 24. "Absolutely not," he told us. "I'm not ashamed of anything in my past. I'm looking forward to moving on in the future because singing is what matters in my career and in the competition."
"If this is the worse thing that gets said about me in my career, I'll be alright."
David says he is ready to sit down with major label execs in the coming weeks and hopes to have an album of his own, original material out within a year, then hopes to follow fellow finalist Clay Aiken and Fantasia Barrino onto Broadway.
But for now, all he wants is to go home to Arizona, take a vacation from the public gaze and watch re-runs of Friends. "I'm looking forward to eating pork flavored ramen noodles and having a deep, deep breath away from the paparazzi. I'm definitely excited about that. I just want to go to my mom's house and lay on the couch with her cats for 48 hours and watch nonsense TV. But I'm going to stay away from reality TV."