NEWS
David Letterman in $2 Million Extortion Plot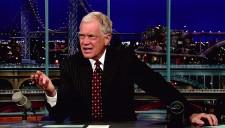 David Letterman's ratings winning-streak is set to continue. A day after his headline-grabbing interview with Madonna, the Gap-Toothed One revealed he was a victim of a $2 million blackmail plot over his illicit affairs with Late Show staff.
In an extraordinary confession, David, 62, asked his audience on Oct. 1, "Do you feel like a story?" In a flurry of applause he revealed he'd received a package three weeks ago with a letter stating, "I know that you do some terrible, terrible things."
Article continues below advertisement
"Sure enough, contained in the package was stuff to prove that I do terrible things," Dave, 62, said, to more laughter.
The late night veteran -- who married Regina Lasky, his girlfriend of 20 years and mother of his six-year-old son Harry, in March -- said he'd testified before a grand jury and had admitted to the relationships.
"My response to that is, yes I have. Would it be embarrassing if it were made public? Perhaps it would," he said in a typically ironic monologue, "I feel like I need to protect these people. I need to certainly protect my family."
David outlined the plan: After receiving the package he immediately contacted the Manhattan district attorney's office and wrote out a fake $2 million check to trap the extortionist who was arrested and charged with grand larceny yesterday, Oct. 1.
Although neither David nor the DA's office gave the blackmailer's name, CBS revealed that the suspect worked for the network's 48 Hours news program and had been suspended.
He said the "whole thing has been quite scary."