NEWS
David Letterman Hearts Lauren Conrad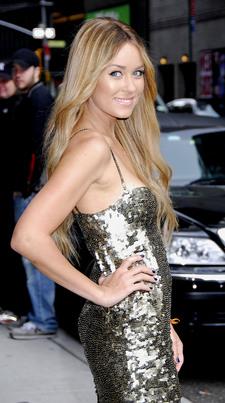 Remember how little boys chase the girls they like on the playground, pull their hair and make them cry because they secretly like them? David Letterman sort of seems to be doing that to The Hills starlet Lauren Conrad.
On last night's Late Show, as NYC media site Gawker so observantly points out, Dave gives LC the same kind of questioning he does with other pretty celebs, bringing the interview around quickly with the funny conclusion that to be "tired" of working on a reality series that only requires four days of work a week and isn't from sun up to sun down really isn't a bad life. Gotcha, LC!
Article continues below advertisement
But then there was also the sort of.... weird moment in the beginning of the interview. After discussing Spencer Pratt and Heidi Montag's upcoming wedding, Dave reminds the audience of the sex tape of LC that never existed, calling Spencer a snake, but then adds that he "kinda wanted to see it." Lauren looks appropriately awkward.
We think it's kind of cute.
Watch the full interview HERE.
LC STOPS BY DAVID LETTERMAN:
<a href="http://www.okmagazine.com/pixandvids/gallery/13567/1" target="_blank"><img src="https://d-images.okmagazine.com/img/photos/large/26840.gif" width="74" height="100"/></a> <a href="http://www.okmagazine.com/pixandvids/gallery/13567/2" target="_blank"><img src="https://d-images.okmagazine.com/img/photos/large/26839.gif" width="74" height="100"/></a> <a href="http://www.okmagazine.com/pixandvids/gallery/13567/3" target="_blank"><img src="https://d-images.okmagazine.com/img/photos/large/26837.gif" width="74" height="100"/></a> <a href="http://www.okmagazine.com/pixandvids/gallery/13567/4" target="_blank"><img src="https://d-images.okmagazine.com/img/photos/large/26836.gif" width="74" height="100"/></a>