NEWS
David Letterman Marries Long-Time Love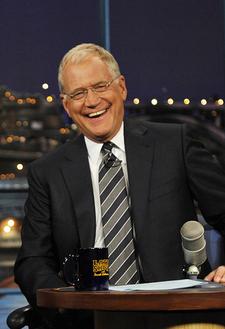 It's about time!
David Letterman wed long-time girlfriend Regina Lasko on Thursday, as Entertainment Tonight reports he revealed his happy news during the taping of his show today.
"On Thursday, at 3 PM, March 19, 2009 at the Teton County Courthouse in Choteau, Montana, I was married to Regina Lasko," he says. "Regina and I began dating in February of 1986, and I said, 'Well, things are going pretty good, let's just see what happens in about ten years.' I had avoided getting married pretty good for, like, 23 years, and I - honestly, whether this happened or not - I secretly felt that men who were married admired me… like I was the last of the real gunslingers, you know what I'm saying?"
Article continues below advertisement
The happy family, along with son Harry got stuck in the mud on the way to get hitched, however.
He goes on to say, "So now, we get ready to go and we've got to drive into the courthouse and it's muddy, and we're supposed to be there at 2, and it's me, Regina and Harry in the truck, in the pickup truck… So we get two miles from the house and we get stuck in the mud – I mean, turn the truck over, stuck in the mud. So now we think, 'Well, somebody will come– no, nobody comes along. Nobody comes along – it's Thursday afternoon, who's coming along, Zorro? No, nobody – so I get out of the truck and I walk two miles back to the house into a 50 mile an hour wind. It's not Beverly Hills, it's Montana, for God's sakes."
"And the whole way, I'm thinking, 'See, smart ass, see, see, you try to get married, this is what happens. See, well, you've got nobody to blame but yourself. Could have happened any other day, but you wait now, see, this is what you get.' So then we get in the car and Harry says, 'Are we still going into town?' and I said, 'Yes, we are,' and he gets very upset because mom had told him if I wasn't back in an hour, the deal was off."
Of course Dave has to joke about his wedding day!