NEWS
David Letterman's Extortionist Pleads Guilty For Attempted Grand Larceny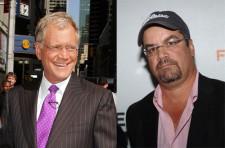 TV producer Robert "Joe" Halderman plead guilt today for trying to blackmail David Letterman over his affairs. Halderman entered a guilty plea of attempted grand larceny in a NYC court, the Associated Press reports.
"I have great remorse and sincerely apologize to David Letterman and Stephanie Birkitt. I attempted to extort $2 million from David Letterman," Halderman said in the courtroom via TMZ.
OK! NEWS: CASE AGAINST LETTERMAN'S ALLEGED EXTORTIONIST WON'T BE DISMISSED
Article continues below advertisement
The TV producer for CBS' 48 Hours Mystery was charged last fall with demanding $2 million to keep quiet about Dave's indiscretions.
The case served as an impetus for the famed Late Night comedian to tell viewers he'd had affairs with women on his staff.
OK! NEWS: LETTERMAN'S ALLEGED EXTORTIONIST USES TIGER SCANDAL AS A LOOPHOLE
Dave thanked the DA for taking the appropriate legal action.
"I would like to thank the District Attorney of Manhattan, Cyrus R. Vance, Jr., the former District Attorney, Robert M. Morgenthau, the Special Prosecutions Bureau in the D.A.'s Office, and the New York City Police Department. When they became involved with this case, I had complete faith that a just and appropriate result was inevitable. On behalf of my family, I am extremely grateful for their tireless efforts," Dave said in a statement to Gossip Cop.