NEWS
David's Fan-tum Of The Opera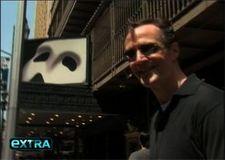 Nobody knows the Phantom like the Howard McGillin knows the Phantom. The actor has played the infamous theater-dwelling nuisance a record-breaking 2000-plus times.
So it is high praise when he says that David Cook "nailed" one of the Phantom of the Opera's most famous songs on last night's Andrew Lloyd Webber-themed Idol.
The Broadway star told the Extra show: "He nailed it. It's such a difficult song to sing. He sings with such purity and such a beautiful sound, but he did great."
Article continues below advertisement
Howard wasn't alone. Randy Jackson was just as impressed, even if he phrased his approval slightly differently. Last night the judge called the rendition a "molten-hot lava bomb," while Paula Abdul joined him in admiring David's "beautiful instrument".
David had looked more than a little uncomfortable when Sir Andrew helped the finalist practice the song by making him gaze deep into his eyes and imagine the 60-year-old songsmith as a sexy teenage girl. But it looks like it was worth the his cringes.
Mr McGillin's critique will air on tonight's edition of Extra.