NEWS
David's Top 3 Song Picks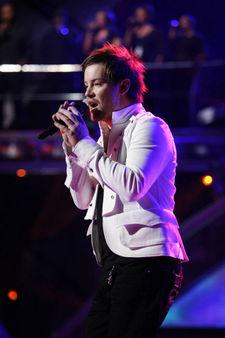 David Cook has already announced two of the songs he'll be singing on next week's Idol.
The three remaining Idols will each perform three songs on Tuesday: one picked by a judge, one by the producers, and one that they choose for themselves.
David has said that his own selection will be the 1995 ballad The World I Know by Georgia rock band, Collective Soul.
And this morning in the middle of a local TV interview, Jason received his orders from judge Simon Cowell.
Article continues below advertisement
When his phone bleeped during the FOX 4 Morning Show in Kansas City he apologized saying, "Ok, this is really professional! I'll turn my phone off. But I just got a text from Simon.
"Interesting!", he said before reading the message aloud.
"Hello David. I have chosen First Time Ever I Saw Your Face by Roberta Flack for you to sing on the show on Tuesday."
The 1969 version may have been a Billboard number one and won a Grammy for Best Song, but David didn't seem too happy about taking on a diva classic!
There's no word yet on what his rivals David Archuleta and Syesha Mercado will be doing.