NEWS
This Day in Hollywood History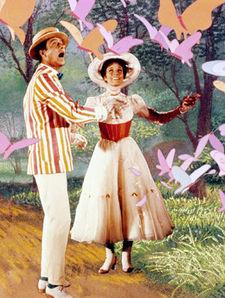 Aug. 29, 1964: Before mannies and supernannies, there was Mary Poppins. The magical nanny charmed audiences and disciplined young Jane and Michael Banks when the Walt Disney musical hit theaters today in 1964, turning into a full-fledged movie star.
Pursuing a career on the big screen, the theater vet landed the part after she was passed over to recreate her stage role of Eliza Doolittle in the film version of My Fair Lady. Big-name beat her out, leaving Julie free to play the delightable but perfectly stern nanny, now one of the most beloved celluloid characters of all time.
Article continues below advertisement
Irony of ironies? The regal dame swept the awards circuit that year, which culminated into a Best Actress Oscar. Audrey wasn't even nominated.
The live-action/animated flick also picked up another four trophies, giving it the best single-night record at the Oscars in Disney history, and comes in at No. 6 on the American Film Institute's list of 100 Greatest Musicals.
Meanwhile, most of the cast, including Julie, (Bert), (Jane) and the late (Michael; he passed away from pancreatitis in 1977), have all been named Disney Legends.
And FYI, this is how you spell it: Supercalifragilisticexpialidocious.