NEWS
DAYS IN SOIREES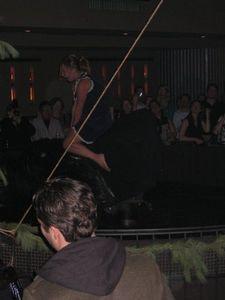 MONDAY: Monday was our OK! Holiday party and I've been a bit slow to recover ever since. I'm not really sure why since going out and drinking on a Monday night isn't exactly out of the norm for me, but nonetheless, I was struggling all week. Well, maybe it has something to do with that mechanical bull….
When planning this year's staff party I was asked to make it a little less corporate than last year (cocktails and passed food in a private room at a trendy restaurant where Britney Spears once exchanged outfits with a waitress) and less crazy than the first year – burgers and karaoke. The result: A party at Johnny Utah's, a restaurant my friend Bobby opened in what was once a bank and now houses a $25,000 mechanical bull!
Article continues below advertisement
After indulging in pink vodka cocktails for energy and a barbecue buffet, the staff bull-riding competition was on! I was pleasantly surprised how many people willingly participated and how others conquered their fear and gave it a shot. Personally, I wasn't even curious, rather, I went into the night knowing that I had no intention of getting on the bull. I went as far as to strategically wear a dress, without tights, to work that day.
Yet, after a couple of hours of peer pressure and cocktails I did give in. For a girl in a dress I did ok (I'm told I didn't flash anyone), but I must say that it was quite some time until my equilibrium felt back in balance after a spin on the bull – and days later bruises from my bareback bull ride remain.
When we wrapped up at Johnny Utah's – about the time NYC's infamous Naked Cowboy arrived, we had an after party at Angels and Kings where an audience including Pete Wentz was privy to our publisher Tom Morrissy's high-rated The Doors covers and we learned one of our reporters is so good we should sneak her into American Idol auditions.
Article continues below advertisement
TUESDAY: I stayed home just to realize House is over and nothing is left to watch on Tivo because no new shows are being aired because of the writer's strike. Boo.
WEDNESDAY: Went to Hugo Boss's holiday party at The Box. Meant to stay an hour or so and then go by the Bowery Hotel for a drink but we stayed at the Box for a boy. Long story short, a while back I met Christian Langdon, former Spacehog frontman and Liv Tyler's current husband Royston Langdon's brother. He's tall, British and so funny it's a challenge to not go five minutes around him without laughing – and if you do he'll do something like show you his mismatched socks and then sponstaneously fall down in the street – then get back up to just dramatically fall again, just for the amusement of others. After I met him I told my friend A she'd love him! Three of her top type criteria are tall, British and funny…Anyway, we saw him when we walked in an A was immediately in love but Christian seemed to keep darting into the vicinity and then disappearing. It all became clear when we realized he was the DJing, so pretty much chained to the turntables (or Mac laptop and sound controls). After consuming enough liquid courage to make a move A went to the DJ area and introduced herself. They chatted and while nothing concrete came of the short exchange, you never know. Since I got red wine spilled on my white dress in the interim, I hope it's something.
Meanwhile another friend of mine went to Bowery Hotel that night. She said she was just sitting there with friends when in walks John 'Uncle Jesse' Stamos and Mary Kate Olsen. Shortly after, Bob Saget walked in with Ashley Olsen. Would've been fun to see that Full House reunion but, some days you've just gotta be the wingman, Wednesday was my day.
THURSDAY: Marquee turned four today and an NYC club retaining its cool factor after four years is quite a feat. Among those that came out to celebrate their success were Carrie Underwood and Chace Crawford – who looked cute making out, a bit more awkward dancing, Jay Z, Usher, Joshua Jackson and Diane Krueger.
Article continues below advertisement
FRIDAY: I went to a friend's birthday at 'Club Pop Burger.' Well, not sure if that's the exact name, but it's a three-story space that culminates into an upstairs lounge over the new midtown Pop Burger. Next I quickly went by new spot was Kiss and Fly, formerly Aer, but toooooo crowded (reminder, Friday is NOT my favorite night to go to a club) before ending the night at Soho House. Friends meanwhile were texting me from a block away at tenjune's holiday party. Among the guests getting into the spirit at tenjune were Nick Lachey and Vanessa Minnillo, back in NYC, happily unmarried contrary to the Bahamas wedding rumors last weekend.
Hope you had a good week full of fun, scandalous holiday party stories ;) xo