NEWS
Daytime Emmy fever!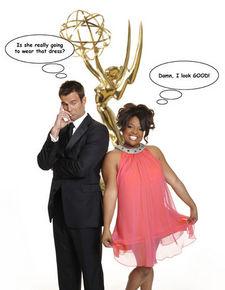 Tonight is the Super Bowl of daytime as celebs that hit the airwaves before 6 p.m. get praise for their work at the 35th Annual Daytime Emmy Awards.
The View's Sherri Shepherd, who is emceeing the night's festivities with Dancing with the Stars/soap hunk Cameron Mathison, got some advice for giving great show from an awards host vet.
"We're keeping in mind Whoopi Goldberg's words of wisdom that this is not about you. The nominees want to know if they won," Sherri laughs. "I wanted to do a big dance number with Cameron. We'd do a Paso Doble and he'd try to life me in the air."
Article continues below advertisement
The ballroom moves are on lockdown, but Cameron and Sherri will still get a workout at the live broadcast, which is set up Golden Globes-style this year. "Everybody is going to be having dinner and drinks and hanging out there," Cameron reveals. "I think that atmosphere will suit Sherri and my energies a lot. We'll be interacting with them and running around to different tables."
"I guess I'm ditching those 5-inch Stuart Weitzman heels I was going to be wearing," Sherri jokes.
Soap opera stars aren't the only ones getting recognition tonight. Judge David Young, who dishes out his own fabulous brand of justice on his courtroom series, is rooting for his show to win an Emmy on its first nomination. While he delivers his TV verdicts without hesitation, David's letting someone else write his would-be Emmy acceptance speech.
"I'm told my partner, Judge Scott Bernstein, is preparing it, and he's not told me yet what I'm going to say," David confesses.
With his boyfriend behind the pen, we pretty much know who David will be thanking first if he wins tonight!
The 35th Annual Daytime Emmy Awards airs Friday, June 20 at 8 p.m. on ABC.