NEWS
Debbie Gibson, Tiffany Advise Justin Bieber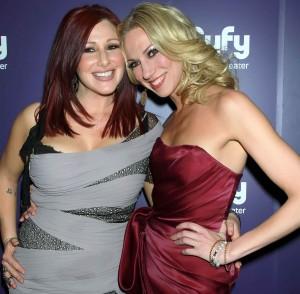 When Debbie Gibson and Tiffany hit the NYC premiere of their SyFy original movie Mega Python Vs. Gatoroid this week, they're decidedly sweeter to each other than they are during their epic catfight scene. (Watch out for the whipped cream - yikes!)
Although the two teen queens, who rose to fame in the late '80s, battled it out on the charts, Tiffany admits that time has made them more like sisters.
Hm, what would they tell the reigning teen idol Justin Bieber?
Article continues below advertisement
"Take it all in," Debbie tells me. "It's a whirlwind, and it goes so quick. Enjoy the moment, and don't worry so much about being perfect, because people expect teen stars to be superhuman, and at the end of the day, you're human. Don't wear yourself out. You don't owe anyone anything but what you really can give."
Tiffany adds, "I think he's surrounded by great people. I think he gets it. He's so young, but he gets it. I think he has a very long career ahead of him."
We head into the screening, where Debbie and Tiffany introduce the film.
"This is a dream come true for me," Tiffany says. "Mega Python Vs. Gatoroid -- the real stars of the movie."
Debbie yuks, "They're probably in the theater. Thank you … try the veal."
After the hilariously campy screening, guests get to choose between Team Tiffany and Team Debbie buttons. (Ha, just like my jean jacket back in the day … it was covered in Debbie Gibson pins!)
Article continues below advertisement
Here's my Team Debbie, currently residing at my desk:
We jump on the party bus and head to the afterparty at Good Units inside the Hudson Hotel, which has been transformed into an 80s dream. Pac-Man and Atari characters dot the floor, and Lite-Brites serve as table centerpieces. As Madonna, Janet Jackson and Prince tunes play, I mingle with Debbie, Tiffany, Taylor Dayne, Dustin Diamond (Screech!) and Alan Thicke in the VIP section. (My personal heaven!)
And don't forget the karaoke! When my pals Delaina Dixon and Shaina cover Journey's Don't Stop Believin,' Tiffany joins them onstage. (Whoa!)
"It was amazing," Shaina tells me. "I have always wanted to perform on stage with celebrity and that was a dream come true. She is a fantastic singer and the energy in the room was unparalleled when we sang Don't Stop Believin.' I will never forget that night."
Coincidentally, Debbie and Tiffany performed the 80s tune together Saturday during a gig with Rubix Cube at the Canal Room in NYC. I was there – incredible! Catch the video here:
Good times!
Here's my pic with Tiffany and Debbie:
Cancel your weekend plans (or at least set your DVRs), and make sure to catch the SyFy original movie Mega Python Vs. Gatoroid airing this Saturday at 9/8c.  It's a must-see!