NEWS
Deborah Gibson Gets Personal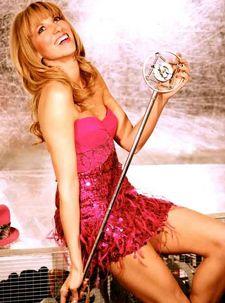 A new pop star will be crowned Sunday when Deborah Gibson and Joey Lawrence choose among six finalists who will win Total Pop Star.
"I just love seeing new talent, giving constructive criticism and trying to nurture that talent," Deborah, 37, tells me.
In 1988, Deborah, then 17, became the youngest person to write, produce and perform a #1 hit with her song Foolish Beat. In this interview, she talks about love and life.
Article continues below advertisement
I saw a picture of you with 98 Degrees singer Jeff Timmons. Are you still dating him?
Laughs I wasn't dating him at all. That was totally fabricated. We're friends but we see each other maybe 2-3 times a year, and we happened to go to this event together. I only stayed at the event for a few minutes and left, even though the story said 'he didn't leave her side.' I was like 'Oh my God, I kind of left him there' and he was there for another hour because I was having back trouble – back pain. I made an appearance and left. He's a dear friend. He's helping with my summer camp Camp Electric Youth … but he's one of the people who's going to be stopping by to do a Q&A and master class. But no, we're not dating. Laughs
Are you dating anyone these days?
Oh my God, it's one of those funny kinda-sorta seeing someone but I'm at a distance now, and it's nobody anybody knows. I have a pretty low-key, normal dating life.
What qualities do you look for in a guy?
Somebody who's very secure because I do travel a lot, and I do go on-and-off of vocal rest, and things that can be seen as eccentric, but they're just necessary to what I do. I love witty banter. I like people who I can throw the ball to and they can throw it back. I definitely don't like boring. I like people who are really professional and really dedicated to something – whatever it is that they're passionate about – but that can also put that aside and be fun and feisty and witty.
Article continues below advertisement
What's the best way to meet a man?
I've met people so many different ways. I think just being open and keeping your eyes open and realizing it can happen anywhere at anytime. I don't think there's a formula or a place. Giving off the vibe of being open is the most important thing. If you have your guard up and you're skeptical or you feel like you've been hurt in the past, I think people sense that. If you are open and friendly and realize it can happen anywhere, that's the best way.
You're an aunt. Do you want kids of your own?
I do want kids of my own. It's funny 'cause I'm 37, and we see a lot of showbiz women … J.Lo is like 39, and Marcia Cross is in her 40s. That gives me hope because I do want kids, but I still don't feel quite ready yet.
I will definitely be an older mom, which is fine with me. I want to make sure that when I do it, I do it right and I can fully dedicate myself to being a mom. I have three sisters who are awesome moms, and my mom has always been an awesome mom. I want to be very hands-on.
Article continues below advertisement
How do you like to relax?
Ahhhh! I'm very bad at relaxing admittedly but I do like reading, writing, swimming, and you're going to laugh – bowling. I'm a Long Island girl.
Any pets?
I have two dogs, Rosie and Daisy, and a cat named Gleason. I found him in an alley at the Jackie Gleason Theater when he was a kitten.
How do you spoil them?
Oh my goodness, I break all the rules and let them sleep on the bed. That's how I spoil them. They run my house. Because I'm away so much, it's out of guilt. When I come home, I let them do whatever they want. Laughs
That's all for now. Next time, OK! will head to Camp Electric Youth.