NEWS
Debra Messing Says Her New 'Smash' Show is 'A Love Letter' to NYC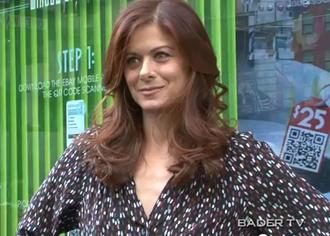 Debra Messing has been busy filming her new NBC show, Smash, in NYC, but having a "ball" doing it.
"It is about the behind-the-scenes making of a Broadway musical, and I play a lyricist," Debra explained to Bader TV. "The musical we are trying to write is about the life of Marilyn Monroe."
Debra and the rest of her co-stars, like Katharine McPhee, film in NYC, and she says the show is "a love letter to the city."
Article continues below advertisement
But when Debra isn't filming, she's finding ways to give back in the Big Apple. The actress is promoting eBay's "Give A Toy Store" to benefit the Toys For Tots charity this holiday season.
"It's so simple and will make you feel really great," Debra said.
Watch a clip of Debra's interview about Smash and her charitable efforts, below!