NEWS
Decoding Twitter: Which 'Boy Meets World' Cast Members are Most Likely to End up on 'Girl Meets World'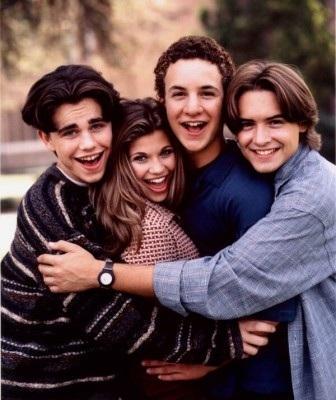 In case you haven't heard, Girl Meets World is officially a thing! And we're all very excited. Ben Savage (Cory Matthews) and Danielle Fishel (Topanga Lawrence) are returning as the parents of Riley, a 13-year-old student at John Adams High. (Bonus: original showrunner Michael Jacobs is in charge.) Somehow we're not surprised that Cory and Topanga settled in their hometown. We wouldn't even be surprised to find them in Cory's old house. In fact, we kind of hope we do. All that fuss about New York at the end of the series was just crazy talk.
Article continues below advertisement
OK! NEWS: A SEQUEL SERIES FOR BOY MEETS WORLD IN THE WORKS?
We want to see pretty much everyone who was part of the original series on Girl Meets World, and we'll take them any way we can get them. We took the liberty of stalking those people on Twitter to see if they've addressed GMW at all, and then assessed the probability of them turning up on our televisions on a scale of 1-5, with 5 being the highest probability. The results of our very scientific findings are below.
Rider Strong (Shawn Hunter): We were a tad obsessed with him back in the day, and we're fine with this obsession reemerging. There is nothing on Rider's Twitter feed that suggests he will pop up on Girl Meets World, but there is this totally cute photo of him and Danielle that was taken rather recently. He's also promoted an interview about that awesome Scream-inspired episode of BMW that aired in 1998. We see Shawn as the new Jonathan Turner (that edgy young English teacher), who we would also love to see back, by the way. Probability of Return: 4 out of 5. We don't want to get our hopes up too much.
Article continues below advertisement
Will Friedle (Eric Matthews): Will does not have a Twitter. Or at least, not one where he admits he's Will FREAKING Friedle from Boy Meets World. It's not 2000 anymore, buddy. What gives? In any case, everyone needs a wacky uncle, and Crazy Uncle Eric has a nice ring to it. Probability of Return: 5 out of 5. He's immediate family.
Lily Nicksay (Morgan Matthews, No. 1): It would be really cute if Riley occasionally went to her cool Aunt Morgan with problems that teenage girls aren't comfortable talking to their parents about. Or maybe Aunt Morgan is a little too freewheelin' for straight-laced Cory and Topanga, and they don't always love her advice to Riley? Lily frequently replies to her Twitter followers' messages about BMW and what a cute kid she was, and she recently had this to say about GMW: "I'd love to talk to Disney about being a part of it." Word. Probability of Return: 4 out of 5. She's the original, she's immediate family, but she wasn't integral to the plot.
Lindsay Ridgeway (Morgan Matthews, No. 2): Lindsay hasn't addressed GMW or BMW on Twitter as far as we can tell. She does seem to be very into fashion, but that's neither here nor there. Probability of Return: 1 out of 5: The recast rarely carries much nostalgic weight.
Betsy Randle (Amy Matthews) and William Russ (Alan Matthews): The grandparents! Definitely need those. Betsy has two Twitters and has Tweeted a collective five times. We urge you to follow her or follow her here as part of this new acquiring-BMW-cast-members-to-guest-on-GMW movement. William does not appear to be on Twitter, but Betsy does address someone called "Rusty" in one of her Tweets. Mysterious. Probability of Return: 5 out 5. Come on!
Article continues below advertisement
William Daniels (Mr. Feeny): Adorably, William Daniels' Twitter seems to be primarily run by his son. The son has not addressed GMW, but doing so would likely result in a barrage of inquiries from diehard BMW fans and Feeny Calls in text form and we're sure he has a life to live. We'd obviously love to see Mr. Feeny back. Any way we can get him. Even if he's still teaching, whatever. We'll play along. Probability of Return: 5 out of 5. Obvi.
Anthony Tyler Quinn (Jonathan Turner): We loved the relationship between Shawn and Mr. Turner, one of the mysteriously disappearing characters from Boy Meets World. If memory serves, Mr. Turner got into a motorcycle accident and was never seen again. That's rather omnious. However, his name was mentioned in the graduation episode, a way to poke fun at his unexplained disappearance. HE'S ALIVE! Let's get him back. Anthony reTweets his followers' BMW messages and recently addressed Girl Meets World: "@BenSavage: I'm going to be a father! Well, on TV at least. The "Boy Meets World" sequel is officially happening!" Congrats man!" Aw. Probability of Return: 3 out of 5. Would love it, he could be willing, we're just not sure why.
Article continues below advertisement
Lee Norris (Stuart Minkus): Nerdy Minkus was a significant part of the first season (when Topanga was an earthy, hippie chick) and then suffered an unexplained disappearance. He reappeared in the graduation episode to jokingly address his (and Mr. Turner's) absence. Check out the video here, the hilarious moment begins about two minutes in. Lee had a more successful run years later on One Tree Hill, but he doesn't appear to have a Twitter. Probability of Return: 3 out of 5. Would love it, he could be willing, we're just not sure why.
Trina McGee (Angela Moore): Shawn's first love! Trina has reached out to various Boy Meets World-related Twitters — a smart move, considering how different she looks now compared to her days as Angela. Were it not for her feed, we wouldn't be sure it was her! The Shawn/Angela romance started sweetly (remember the whole storyline with the mystery purse?) but got way dramatic near the end. Still, these characters were important to each other and while we're walking down memory lane, we'd love to run into Angela! Probability of Return: 3 out of 5. Would love it, she could be willing, we're just not sure why.
Article continues below advertisement
Maitland Ward (Rachel McGuire): The leggy redhead who was pretty much everyone's roommate during the college years. Rachel once pointed out that she was the most likely to drift from the clan in the future, and sadly, she was probably right. However, her occasional reappearance would serve as nice (and realistic) message that the friends you have for the rest of your life are not always from high school. College is awesome that way. Probability of Return: 3 out of 5. Would love it, she could be willing, we're just not sure why.
Matthew Lawrence (Jack Hunter): Ah, Shawn's half-brother. Ah, another actor without Twitter. This is getting old. Matthew has guest-starred on bro Joey Lawrence's sitcom, Melissa & Joey, so we know he likes working with family (and perhaps, by extension, those who were once like family?) and has no issue with gimmicky casting. Probability of Return: 4 out of 5. But only if Rider Strong appears, otherwise it's just a terrible tease.
Article continues below advertisement
Ethan Suplee (Frankie Stechino): So, we realize there's no natural or logical way to bring him back, but we don't care. We love Frankie. He ran with a bad crowd but had a heart of gold and a pension for poetry. That's a show in itself! Ethan is pretty active on Twitter, but he hasn't addressed GMW. If he doesn't do so soon, we're going to write a sad poem about it. Probability of Return: 1 out of 5. Get your pencils.
Let us know if you will be tuning in for Disney Channel's Girl Meets World and who you most want to see make a (or a few) special appearances!