NEWS
Demi Dishes on Ashton and Family Life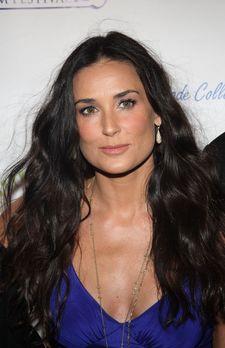 is currently doing press for Flawless, the new heist film she stars in opposite Michael Caine. At 45, Demi has been in the movie-making business for some time, and yet she still manages to make it look easy.
Maintaining a happy marriage, raising three teenage girls and having a successful career may seem too good to be true, but the actress manages all three, and does it well.
"I have tried to approach my life with a desire to face my own fears and insecurities, you know, to blast through my limitations and then take what I have learned and find ways to share that with others," Demi reveals in the new issue of Harper's Bazaar magazine.
Article continues below advertisement
Sharing the last five years of her life has been Demi's husband, 30-year old 15 years her junior, the couple's relationship initially caused quite the commotion with the press, but the actress says it was never so much about their age difference as it was about introducing the right person to her girls.
"I looked at Ashton and thought, He's 25 he's now 30; it's a lot to ask. Being with me isn't about just being in a relationship with me; it's about someone stepping into a situation where there is already a huge level of responsibility".
And then there is the insatiable curiosity about where Bruce Willis, Demi's ex and father to their girls — Rumer,19, Scout, 16, and Tallulah,14 — fits in. Bruce, Demi and Ashton have been repeatedly photographed together with the girls and seem to genuinely be one big happy family.
Ashton tells Bazaar it was no easy task — at first.
"I just had to get over my ego, which was screaming, 'This guy used to sleep with your woman,' and I listened instead to the little voice inside that was whispering, 'This guy loves and cares about your woman.'Once I did that, it was a cakewalk," the actor says.