NEWS
Demi Lovato Admits to Hitting Backup Dancer: "I Feel Horrible"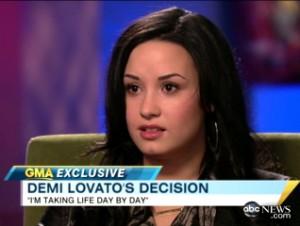 Demi Lovato is speaking out to Good Morning America and 20/20 in her first interviews since leaving treatment for her battle with bulimia and cutting.
OK! NEWS: DEMI LOVATO EXPLAINS HER TREATMENT WAS FOR AN EATING DISORDER
"I've spoken openly about being bullied throughout the past few years, but one thing that I've never been able to feel comfortable talking about was the effects that it had on my life, afterwards," Demi tells Robin Roberts in a clip from the interview airing Friday. "I literally didn't know why they were being so mean to me. And when I would ask them why, they would just say, 'Well, you're fat.' "
Article continues below advertisement
"I developed an eating disorder, and that's kind of what I've been dealing with ever since," she explained.
And at the age of 11, Demi began cutting herself to cope with emotions.
"It was a way of expressing my own shame, of myself, on my own body," Demi explained. "I was matching the inside to the outside. And there were some times where my emotions were just so built up, I didn't know what to do. The only way that I could get instant gratification was through an immediate release on myself."
OK! NEWS: DEMI LOVATO SAYS SHE'S "SO PROUD" OF CATHERINE ZETA-JONES
However, Demi's family and management team held an intervention after Demi hit one of her backup dancers while touring in South America.
"I take 100 percent, full responsibility," Demi said of physically striking Alex Welch. "I feel horrible. She was my friend."
Demi says she got through her darkest hours in treatment by thinking about her younger sister, Madison, who plays the daughter of Eva Longoria's Gabrielle Solis on Desperate Housewives.
"A picture of my little sister, on my little bulletin board, was one of the main things that kept me going," she said. "I just kept thinking, 'OK, set this example for your little sister.' "
Watch a clip from her interview, below!