NEWS
Demi Lovato in 'Latina' Magazine: 'I'm Glad I Hit Rock Bottom When I Did'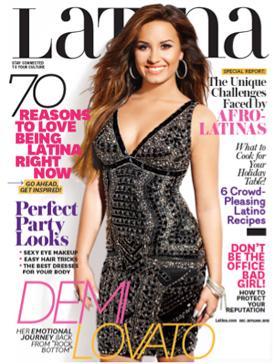 It was only a year ago that Disney darling Demi Lovato entered a treatment facility for physical and emotional issues, which many assumed was code for substance abuse.
We know now that it wasn't drugs or alcohol that lead Demi to her nervous breakdown last fall. The singer has since admitted that she sought rehabilitation for self-injury, bulimia and depression in addition to being diagnosed with bipolar disorder while under treatment.
Article continues below advertisement
OK! NEWS: DEMI LOVATO GETS HER PATRIOTISM ON DURING WORLD SERIES
Now, Demi is back on top and covering the latest issue of Latina magazine! In it, Demi opens up about her time in treatment and the importance of being a role model.
Since emerging from rehab, it appears Demi's career is now stronger than ever. The 19-year-old singer dropped her latest album, Unbroken, in September and scored her first Billboard Top 10 hit, "Skyscraper," in July. But not that long ago, Demi was worried that she wouldn't be able to make the Robert Downey Jr.-esque comeback, but she has now succeeded.
"I thought I was going to lose everything when I checked myself into treatment," Demi told Latina. "I didn't know if I would have a career at all when I came home. So it really hit me — I hadn't been grateful. In that sense, I can honestly say I'm glad I hit rock bottom when I did. Most people don't have those moments. I see a lot of young people in this industry who feel entitled because they haven't hit rock bottom yet. I feel blessed when I get an opportunity now."
OK! NEWS: DEMI LOVATO ON HER EATING DISORDERS — "THOUGHT THAT ORANGE JUICE WAS GOING TO MAKE ME FAT"
Demi has often been commended for going public with her problems and becoming a role model to all those with similar issues. But, it turns out, if it were completely up to Demi, she might have kept her problems private.
"It wasn't my idea, to be 100 percent honest," the singer admitted. "It was influenced by management, publicists and family. But they were all bringing up a good point: What teens need most is someone they can relate to — someone they connect with on serious subjects like eating disorders, cutting, bipolar disorder, depression and bullying. I've been there. I get it. Why wouldn't I be honest about it so I could help someone else?"