NEWS
Demi Lovato Leaves Rehab; First Stop Starbucks?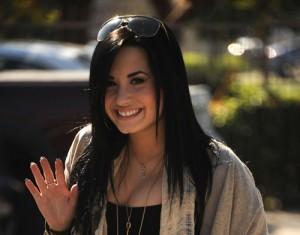 Demi Lovato has left the rehab facility in L.A. where she was undergoing treatment for "emotional and physical issues" since November. The 18-year-old starlet looked well-rested and very happy today as she enjoyed a Starbucks drink in Santa Monica, Calif. and flashed her pearly whites at photogs who greeted her! It's great to see Demi so smiley and back to her normal routine!
"Demi came back to LA earlier this week," a source close to the situation told Celebuzz. "She completed her prescribed treatment and an outpatient program near the treatment facility."
Article continues below advertisement
Spending quality time with family and friends is also one of her top priorities, as she continues to seek out-patient treatment for her issues in L.A.
In November, Demi went to the treatment center after allegedly punching a backup dancer on a tour with the Jonas Brothers.
Some speculated her ex-boyfriend's, Joe Jonas, new relationship with Twilight superstar Ashley Greene, also put Demi over the edge.
Earlier this month, Demi posted a special shout-out to fans on her Facebook page after the People's Choice Awards.
"I want to make sure my fans know how thankful I am for all their love, support and prayers during this difficult time," she added. "Thank you for standing beside me through it all."
Filming for Sonny with a Chance's third season began on Friday, Celebuzz reports, but producers said that they planned on only filming Demi-free "So Random!" sketches, as Demi was still undergoing inpatient rehab treatment.
Now it remains unclear if Demi will be returning to the Sonny set on Monday. If she plans to get back to her regular routine, we bet the star will head back to work!
Check out a clip of Demi on her hit Disney show below!
Yesterday, a new unreleased song clip of Demi was leaked online. Seems like perfect timing with her departure from rehab! Share your thoughts in the comments!