NEWS
Demi Lovato: Rehab Was Like Prison But I Needed To Get Help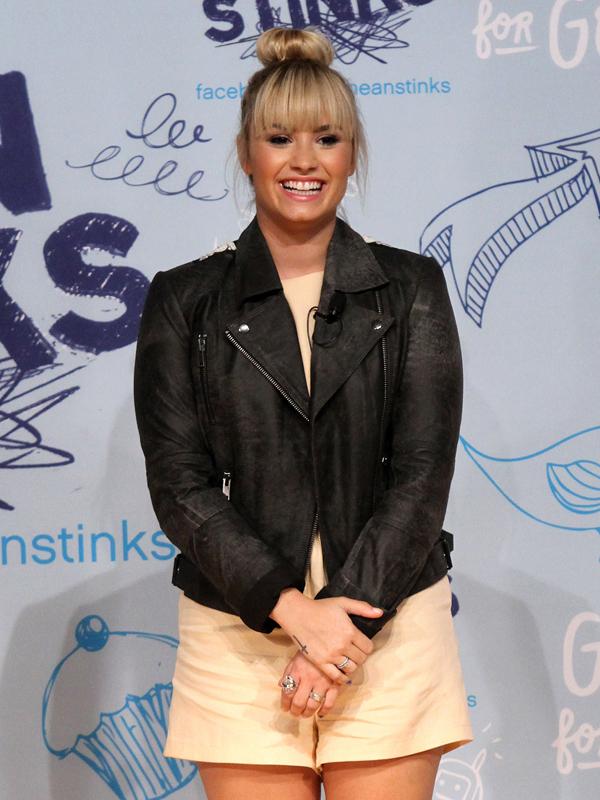 Article continues below advertisement
Demi had lashed out and hit one of her friends because she says she "wasn't really in control of my emotions at the time and I was just out of control."
"There's no excuse for it but it definitely showed everyone I needed to get help and I think two days later I was checking into rehab," she told Katie Couric.
"Treatment was so difficult at first, I remember walking around saying 'I'm in prison!' They needed to have those strict rules in order for me to understand how sick I was.
OK! GALLERY: BRITNEY SPEARS AND DEMI LOVATO HEAD TO RHODE ISLAND FOR X FACTOR AUDITIONS
"I wasn't allowed to use the bathroom by myself. We had specific phone times. There are tons of things you weren't allowed to have, you weren't allowed to have certain hair products or whatever that you could injure yourself with or possibly drink and you were just stripped of a lot of things.
"I also had somebody watching over me every single time I ate. And if I didn't finish what was on my plate, and often times I would cry because I physically couldn't stomach it and if that happened I would have to have little consequences, nothing horrible just not being able to go to the cafeteria to eat."
Article continues below advertisement
In fact the in-patient facility in Illinois, where Demi was treated for self-harm and eating issues, wouldn't allow patients to have razors there at all.
OK! GALLERY: DEMI LOVATO ROCKS OUT ON GOOD MORNING AMERICA
"There were some pretty fuzzy legs walking around there," the pop star laughed.
Demi says that she has struggled with body image issues from an incredibly young age.
"When I started to have body image issues I remember being three-years-old in a diaper and rubbing my hand over my stomach… and I remember thinking in my head "I wonder if one day this will ever be flat?"
Demi is now an ambassador for Secrets "Mean Stinks" Anti-Bullying Campaign which is a subject close to her heart after being verbally harassed and cyber bullied when she was in school.
OK! GALLERY: THE ULTIMATE BRITNEY SPEARS PHOTO GALLERY!
"I've always said I wished that they had just hit me in the face and gotten it over with because what they said to me sticks to me to this day and it affected me turned me into the person I am today," she shared.
Article continues below advertisement