NEWS
Demi Lovato Reveals Why She Started Cutting & How She's Regaining Her Confidence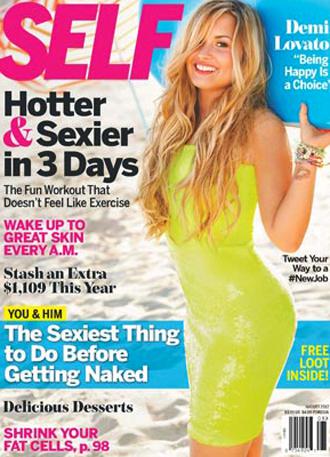 At 19 years old, Demi Lovato has faced struggles many teenagers have battled themselves, except she's done it in the spotlight. The singer and actress, who will appear as a mentor on The X Factor this September, opens up to Self magazine about bipolar disorder, bulimia and her struggle with cutting, and how her new gig is helping her rediscover happiness. 
"I've spent the past two years getting over an eating disorder and issues like self-harming and bipolar disorder. Unlike a person who doesn't have these problems, I have to work on this stuff every day. I'm reminded of that whenever I eat or feel down," Demi tells the August issue of Self in a candid new intervew. 
Article continues below advertisement
She also reveals what made her start cutting, and delves deep into her personal battle with depression. 
OK! GALLERY: DEMI LOVATO ROCKS PINK HAIR AT THE X FACTOR AUDITIONS IN OAKLAND 
"There were times I felt so anxious, almost like I was crawling out of my skin, that if I didn't do something physical to match the way I felt inside, I would explode," she explains. "I cut myself to take my mind off that. I just didn't care what happened. I had no fear.
"Finding out I had a real emotional disorder helped me put together the pieces of the puzzle," Demi adds of being bipolar. "I remember being on my tour bus thinking, 'My life is so awesome right now, but I'm so depressed.' Then, a few days later, I'd be on top of the world. It was really confusing. When I got diagnosed, my life made more sense."
Demi has discovered that finding happiness isn't easy and that you have to work toward making your life feel more fulfilling. 
Article continues below advertisement
"You can choose to work toward happiness or not. I used to expect it to come to me, but it takes more than seeing a therapist once a week. I make time for myself and meditate. And I haven't used my cell in three months!" she reveals. "Subconsciously, it was a crutch. When a room gets quiet, what do you do? Grab your phone! Now I can sit and have conversations with people."
OK! NEWS: DEMI LOVATO CO-HOSTING THE TEEN CHOICE AWARDS WITH GLEE'S KEVIN MCHALE 
The teen star now understands that beauty is in the eye of the beholder and accepting yourself and who you are is the first step to feeling confident. 
"I used to feel my most beautiful when I was on the red carpet or at events or something where I'm all dolled up. Now I feel like the moment when I feel most beautiful is when I'm able to hang out with a guy without my makeup on or lay on the beach with no makeup on and not even worrying about what my hair or what I look like before I fall asleep," Demi says. "When I'm confident enough to show myself without makeup on, that's when I feel my most confident."