NEWS
Demi Lovato Says Ex-Boyfriend Joe Jonas Knew About Her Eating Disorder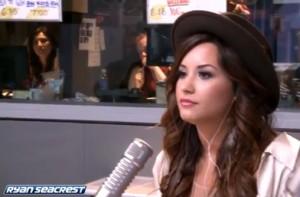 Demi Lovato chatted with Ryan Seacrest on his radio show this morning to share her new single "Skyscraper" and how she overcame her struggle with her eating disorder. Demi also admitted that her ex-boyfriend Joe Jonas knew about her eating disorder and says he did support her.
OK! NEWS: DEMI LOVATO TO DEBUT NEW SINGLE "SKYSCRAPER" NEXT TUESDAY
Demi really didn't hold anything back with Ryan during her interview on his radio show about her time in treatment for an eating disorder. The singer admitted her struggles were having a negative impact on every aspect of her life and her family and friends knew it.
Article continues below advertisement
"It was the elephant in the room," she said. "Everyone knew about it, but didn't know how to approach it. It was affecting every area of my life. I was being cranky, I was irritable, not pleasant really to work with. I became a little brat on set, and I just had so much growing up to do. Ultimately, I was never intentionally attempting to be that way, but I had so much going on in my head."
During her struggle, Demi was also dating Joe at the time. Did he know about it?
"Joe was my best friend for years prior to that so he knew," she explained. "Obviously, I'm not super close with him anymore just because a lot has happened, but I was very thankful to have the support of many many friends even up to this day."
But Demi hopes her new song, "Skyscraper," can help others deal with similar struggles.
"My whole song is about rising above those issues, and hopefully my fans realize its going to be okay," she explained. "No matter how hard your rock bottom is you can rise above it and you can come back."
Listen to Demi's interview, HERE!