NEWS
Demi Lovato's Best Live Performances Ever, According To Her #Lovatics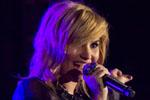 With the news that Demi Lovato is definitely returning as a judge on the next season of X-Factor and the fact that her new self-titled album makes it debut today, the #Lovatics are having a pretty great week. So I decided to reach out to them myself and ask some of Demi's biggest fans via Twitter what their favorite live Demi performance ever is.
Article continues below advertisement
It was for sure hard for them to narrow down (yup, Demi's that talented), but see which major live performances Demi's huge Twitter following picked! Oh, and then see which performance I chose. Because, truth, I'm a #Lovatic too.
Watch: Selena Gomez Reveals Details On Her Upcoming Tour
Reece from @stanningdemi: "My favorite live performance that Demi's ever done is when she performed 'Made In The USA' at Wango Tango 2013 because her vocals were astounding and the energy was just amazing!"
Nathalie of @DemiLovatofans: "My favorite of Demi's performance is in Festival Z in Rio de Janeiro. I went to this show and it was my favorite!"
Shannon of @TeamDemiLovato: "I don't think I could chose! She's an extremely talented singer live and she's my favorite singer! I loved watching videos from her summer tour last year, so talented!"
And mine? I remember legit tearing when Demi performed "Skyscraper" (in two languages, mind you) at the ALMA awards in 2011. That voice, it's just, whoa.