NEWS
Demi Moore & Ashton Kutcher Have Been Separated for Six Weeks, Report Says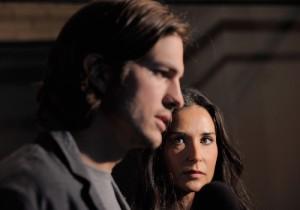 Demi Moore and Ashton Kutcher are still keeping quiet on their divorce, but new details have emerged about the strained stated of the couple's marriage and Demi's response to Ashton's infidelities.
According to Radar Online, Demi and Ashton were already separated when Ashton partied all night and had relations with alleged mistress Sara Leal, but the couple was making a final effort to repair their broken marriage through counseling.
Article continues below advertisement
"They've been in counseling," a source told Radar, adding that Asthon's affair with 23-year-old party girl Sara was the final straw for Demi.
"They separated about six weeks ago," the source added. "Both went to Kaballah counseling hoping to save the marriage. But it's over now."Kutcher has been accused of cheating previously in the marriage. He denied hooking up with Brittney Jones last year, but has been quiet about his sexual encounter with Leal, who slept with Ashton in his penthouse suite in San Diego and then sent a text message to friends telling them about it."
Ashton and Demi may still be wearing their wedding rings, but Radar's source close to the couple says the marriage is "dead" and Demi is "devastated."
Demi and Ashton's marriage has been at the forefront of headlines after a blockbuster story broke last week revealing Ashton's infidelity to the world. Now, Star magazine has released the photographic evidence of the Two and a Half Men star's cheating ways and more details of his relationship.
Article continues below advertisement
Megan McNutt, an eyewitness at the infamous party that uncovered Ashton's infidelities, gave Star and Radar Online the juicy details of Ashton's night out in San Diego, where he hooked up with Sara, 23, in the early morning hours of Sept. 24, his sixth wedding anniversary with Demi.
"Ashton and Sara definitely boned," Megan told Star about the affair. "They definitely hooked up, there was definitely sex involved."
Star reported last week that the powerhouse couple's marriage was strained and is heading toward a $290 million divorce.
More details on Sara are also revealed in the new issue — a friend tells Star she was "always a party girl on the hunt for a rich man to pay her bills," adding, "she kind of throws herself at people."