NEWS
Demi Moore Is 'Flawless'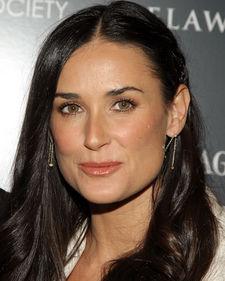 Personal questions are off-limits during a special screening of Demi Moore's diamond-heist thriller Flawless presented by The Cinema Society and Piaget.
The event, held at NYC's Tribeca Grand Screening Room, brings out daughter Tallulah Belle, ex-hubby Bruce Willis, his gal pal Emma Hemming, Carson Kressley, Debbie Harry, Russell Simmons and Pauly Shore.
At 7:17 p.m., a hush rolls over photogs in anticipation of the one, the only Demi. She won't arrive for some time, but when she blows in, she turns on the charm. "I'm a little — whew!" she says.
Article continues below advertisement
In the '60s flick set in London, Demi plays a woman constrained by the glass ceiling who teams up with a retiring janitor to steal diamonds from their employer, the London Diamond Corporation.
What does she prefer about that era?
"Well, I was born in the '60s," she tells me.
Who does she consider Flawless?
"As human beings, we tend to have a real drive for perfection," she says. "It's really the things that are flawed that we find the most beauty and perfection in. Even in this movie, every character in this is completely flawed, which is what makes it so human."
In the flick, 45-year-old Demi ages to 80. How did it feel?
"It was strange to see myself, but it didn't feel like me. I kept looking. Even though I could see my eyes — because they also aged my eyes — it was odd."
She describes working with Michael Caine, who plays the janitor, as "a dream." She says, "I love a man who has clear priorities. He knows what he does well, he gets in there, does it and he's already got the best restaurants chosen to go eat as soon as we wrap."
Article continues below advertisement
The film was shot in Luxembourg. Director Michael Radford tells me, "There are more Michelin guide restaurants in Luxembourg per square foot than anywhere else in the universe because it's a town of banks and bankers, so they like to eat well. You can always eat well there."
Since the film is about diamond thieves, what's the last thing Demi stole?
"When I was 12, I stole a weeble," she admits.
Likewise, for Russell? "I stole Carmex lip balm from my girlfriend this morning," he laughs.
What does Debbie consider Flawless? The gold bracelet a fashion reporter is sporting.
"Yeah, that's pretty flawless," she says, pointing.
Flawless is in theaters now.