NEWS
Demi Moore: "I'm 47 How Am I Supposed to Look?"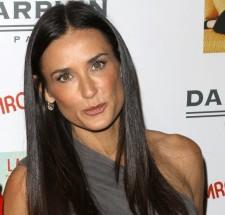 Demi Moore has hit back at the constant speculation about her looks, slamming a cruel Twitter comment from a follower who labeled her "old".
The actress posted pictures of herself on Twitter, holding up the palm of her hand on which she'd written, "Love wanted and given".
But that's not what she got from her followers.
One follower who goes by the name Knlr, Tweeted on Dec. 16, "sorry but, you look old...specially your neck and cheecks at the second shot.. i'm really sorry."
Article continues below advertisement
Demi shot back, "I'm 47 how am I supposed to look?"
Since the exchange the Ghost actress' fans have flocked to her defense posting a stream of messages slamming the lone Tweeter.
"I am mortified by that persons comment, if I look half as good as you when I'm 39 I'll be estactic let alone 49! You look FANTASTIC! :)," said one follower.
"You are one SEXY MAMA! If anybody tells u anything else, they're dumb and blind. If I look as good as you when im even in my 30's I'll be very happy," said another.
Demi came under fire for a recent W magazine cover photo which looked as though part of her hip had been photo shopped.
The mom-of-three posted the original shots alongside the magazine's final image and dismissed the controversy by Tweeting, "I don't have any hips!" Adding,"I love the pic and can only say I wish I had good lighting like that following me around all day."