NEWS
Demi's Backward Biological Clock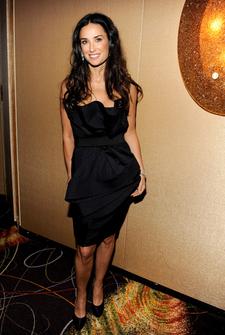 Tanned and taut in a black, strapless Donna Karan dress, Demi Moore, 45, looked scarcely older than her 30-year-old husband, Ashton Kutcher — or, for that matter, her daughter Rumer, 20. at the Jan. 20 Youth Inaugural Ball at D.C.'s Hilton Washington hotel.
"Demi's body is absolutely amazing, and she can easily compete with the twentysomethings," Project Runway star Nick Verreos tells OK!. "She looks as good, if not better!"
Article continues below advertisement
Better, arguably, than she did almost 25 years ago. But how did Demi discover life's
rewind button? Demi denies having had any nips or tucks. "The truth is, I have no problem with enhancing one's looks or fixing something that's changed," she says. "It's always an option, but I can't see me ever getting something like that done."
After 1996's Striptease, Demi, who commanded $12.5 million per picture at the time, dropped out of acting for several years, retreating to Idaho for a period of reevaluation. "I'd been on a long physical run of absolutely manipulating and forcing my body," says Demi. "By taking time off, I was really able to get inside my obsessive-compulsive behavior" and learn that "being thin does not equate to happiness."
Demi still exercises religiously, with the help of a personal trainer, and follows a regimen that includes circuit training, weights, cardio, and Pilates. "The cost per year is in the six figures," a source tells OK!.
But her look isn't all about money and muscles. "She has flawless skin," Demi's personal makeup artist, Erin Ayanian Monroe, tells OK!. "There's nothing to cover up. We just give her skin a glow with a créme blush and use a lot of sunscreen."
Article continues below advertisement