NEWS
Denied: No Big-Screen Reunion for Friends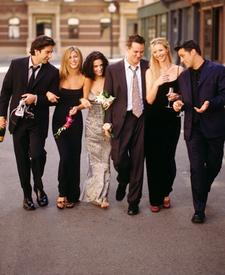 As reported by OK! last week, it looks like any rumors you'll be seeing a big-screen version of hit NBC sitcom Friends are just that — rumors.
Not long after the first report appeared in London's Daily Mail last week, reps for several of the show's stars came out of the woodwork to shoot down the report that the cast, spurred on by the success of the recent Sex and the City feature film, had agreed to get together one last time.
Article continues below advertisement
"Nothing is happening in this regard," said Matthew Perry's rep in a statement. "The rumor is false."
This sentiment was echoed by David Schwimmer's publicist, who said, "there's been no discussion about it."
And dealing the final blow to the rumor was a rep for Jennifer Aniston, who said that his client was unaware of any such project, and who questioned by she would have any interest in revisiting her sitcom days.