NEWS
Denise Richards: Charlie Sheen Called Me Collect From Jail on Christmas Day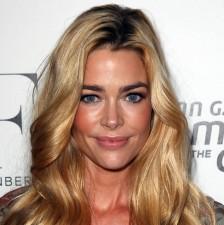 Charlie Sheen called Denise Richards collect from jail on Christmas Day, the Two and a Half Men star's ex-wife revealed on The Oprah Winfrey Show yesterday, adding that despite their troubled past the pair are "in a great place".
The mom-of-two told Oprah how she learned about her ex-husband's fracas with his current wife Brooke Mueller: "I got a call on Christmas — a collect call from Charlie," she said of his Aspen arrest.
Article continues below advertisement
Charlie told her that he and Brooke had "gotten into a fight" but didn't want to say more because the prison was recording their conversation.
The actor said that he "didn't want the day to go by without him saying 'Merry Christmas' to the girls." He promised to call Denise once he was released, a promise he followed through with.
"Charlie and I are in a great place right now," announced Denise at the beginning of the interview, going on to reveal how the pair managed to become friendly after their acrimonious divorce, so much so that they even shared an early New Year's Eve dinner together with their daughters Sam, 5, and Lola, 4, and Denise's dad.
Denise admitted that she had to tell her girls about their dad's arrest after Sam was asked about it by a kindergarten classmate.
She told Oprah: "I can't control what Charlie does." She added at the end of the show: "Keep my girls safe, that is my goal."
Pushed to talk about Charlie and Denise's rocky marriage, the Wild Things actress said he was verbally abusive (Charlie has denied this).
"I knew about his past and I thought it was in the past," she explained, pointing out how she was impressed at the time that he had been three years sober.
Article continues below advertisement
As for his current situation, she simply said: "It's sad, this is a sad situation."
She also addressed her former relationship with Richie Sambora, her friend Heather Locklear's ex-husband, and having to field accusations of being a husband-stealer.
She also explained the situation with Heather. "We had been best friends, but we had ended our friendship before Richie and I ever started dating.
"It was very difficult showing up to parent-teacher days at my daughter's school with all the parents thinking I stole my best friend's husband."