NEWS
Weapons Involved in Charlie Sheen's Dispute With Brooke Mueller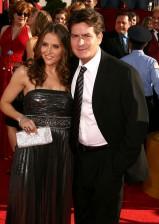 With rumors circulating of alcohol being involved in the domestic dispute between Charlie Sheen and Brooke Mueller on Friday, E! Online reports that a new element can be added to the mix as weapons were also a part of the quarrel.
"A weapon of some sort," was involved, Stephanie Desaro of the Pitkin County Police Department in Colorado tells E! News.
Until the case is further investigated, more details on what kind of weapon will be withheld, but the Aspen Deputy Chief D.A., Arnold Mordkin, described Sheen as compliant while incarcerated to E! Online.
Article continues below advertisement
Charlie, "seemed upset, but was cooperative and pleasant," Mordkin told E! Online.
Sheen is due back in court in Aspen on Feb. 8 for further proceedings.